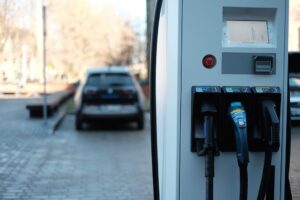 Get in touch with one of our skilled electricians to get immediate access to electric car charging! For years, Emergency Electrical has produced satisfied customers, and now you can join them!
Whether you need an electric car charger installed from the ground up or simply maintained or repaired, we'll be there to assist you!
A device that provides electric energy to charge plug-in electric vehicles such as cars, neighbourhood electric vehicles, trucks, buses, and other types of vehicles is known as an electric vehicle charging station, a charging station, an electric recharging point, a charge point, a charging point, an electric vehicle supply equipment (EVSE), or an electronic charging station (ECS).
Certain electric vehicles have onboard converters that allow them to plug into either a standard or a higher voltage outlet, while others rely on their charging stations.
Charging stations have a variety of connectors that meet a variety of standards. Adaptors for common direct current rapid charging, such as Combined Charging System (CCS), CHAdeMO, and AC fast charging, are included with chargers.
Public charging stations are typically located on the street or in retail shopping malls, government buildings, and parking lots.
SKU: ec192 MPN: ech312